Dental School Gallery:
| | | |
| --- | --- | --- |
| | | |
| Exterior | Exterior | Main Hall |
| | | |
| Main Hall | Library | Training Room |
The Department of Endodontics, at the Dental School - Turin: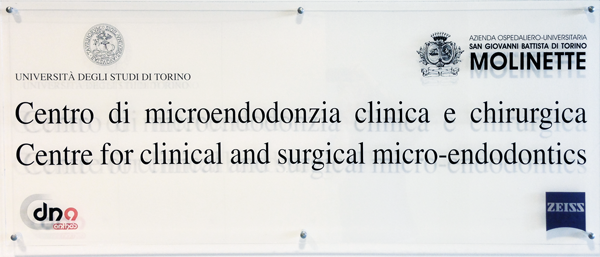 Dental School:
Turin University Dental School is situated in the modern Lingotto Centre. The building is a jewel of early twentieth century industrial architecture and headquarters of the FIAT automobile company, reconverted into a multifunctional centre in a project by architect Renzo Piano.
In a privileged position close to the centre, alongside the River Po and the sheltered by Turin's hills, the complex houses an important congress centre, the Auditorium, a picture gallery, hotels, restaurants, as well as an extensive shopping centre.
The Turin Dental School, created thanks to the determination of Prof. Giulio Preti and directed by Prof. Stefano Carossa, was inaugurated on 15th February 2008. It is located on the second and third floors of the Lingotto Centre and covers a surface area of 14,000 square metres.
It is one of the largest and most technologically-advanced structures of its kind in Europe. The Endodontics Department, directed by Prof. Elio Berutti, where the Master's Degree in Clinical and Surgical Microendodontics takes place, is emblematic of this modernity.



Each work station is equipped with a top of the range Zeiss ProErgo operative microscope, with the most modern and sophisticated equipment.

The teaching area on the third floor contains lecture rooms and teaching laboratories designed for pre-clinical teaching. Indeed, teaching is one of the fundamental aspects of the Dental School's mission, alongside scientific research and health care.

There is also a well-organised library and a wireless link to the University network throughout the school.

Among the teaching laboratories, the mannequin room is considered the flagship of the teaching facilities.

The very modern work stations, specially designed by Pininfarina and made by Saratoga for this Dental School, are innovative simulation benches that enable students to practise during the pre-clinical teaching phase and to interact effectively with the lecturer.

The elegant Aula Magna (great hall) provides a setting for significant moments such as the discussion of Bachelor and Masters degree theses. The Turin Dental School, with its large and modern rooms, avant-guard equipment, and dynamic enthusiasm, combine to produce the ideal environment for study, meetings, and learning.